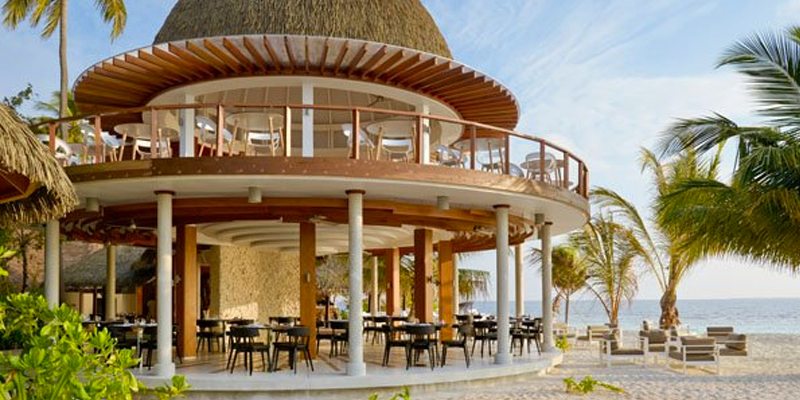 The small and breath-taking island of Kandolhu boasts a variety of mouth-watering dining options ranging from 4 a la carte restaurants to both beach and in-villa dining, so you have plenty of choice when it comes to enjoying your meals.
One of the 4 restaurants situated on the island resort is The Market. This is a delightful all-day dining venue which offers a resplendent breakfast buffet and delicious a la carte lunches and dinners. Overlooking the glittering waters of the Indian Ocean, The Market dishes up delectable local and international favourites ranging from flavourful Panini and sandwiches to Italian pasta, Maldivian curry and good old fashioned fish and chips. For dessert why not tuck in to a slice of Arabica Cheese Cake or perhaps a Lagoon Banana Split, made with tropical fruit flavours such as mango, pineapple and coconut.
If you are partial to Mediterranean and Italian cuisine then make your way to Olive, a relaxed open-air restaurant which provides panoramic views of the sea. From pasta and risotto to mouth-watering meat and poultry dishes and the freshest fish and seafood, Olive's menu is guaranteed to titillate your taste buds. After your meal treat yourself to a decadent helping of tiramisu or Cannelloni alla Siciliana for the perfect indulgent treat.
Searching for the ideal location for a romantic meal on the island? Grab a table at Sea Grill, which is situated right on the beach and opens as the golden Maldivian day transcends to a balmy star-lit night. As the name suggests, this eatery serves juicy cuts of meat and freshly caught seafood, all grilled to perfection. Be sure to leave room for White Chocolate and Olive Oil Mousse or an Exotic Fruit Compote with Brittany shortbread
The fourth and final restaurant on Kandolhu is Banzai, a Japanese restaurant specializing in succulent sushi and sashimi as well as seafood and meat expertly grilled on the teppan. Enjoy an exotic dinner surrounded by the velvety star-pricked darkness of the Maldivian night and finish off with a complimentary Matcha Dorayaki, a pancake stuffed with custard pumpkin paste and accompanied by a helping of vanilla ice cream and maple syrup.
In between meals, Kandolhu guests can sip exotic cocktails and refreshing fruit juices at Vilu Bar, a laid back venue where you can enjoy movie nights or live music while digging your toes into the soft sand floors and gaze out over the sea.
If there are times during your holiday when you feel too relaxed to leave your villa for a meal, in-villa dining is available between the hours of 07:30 and 23:00 – but for the ultimate private dining experience why not opt for a personalized meal on a secluded corner of the beach after discussing your ideal menu with the skilled chef.
If you are thinking of a holiday or honeymoon to Kandolhi Island or anywhere else in the Maldives, check out our selection of stunning resorts at PureDestinations.co.uk